We have added a brand-new app to our portfolio – Outlook Meetings for Jira! It helps IT agents using Jira Service Management to easily schedule appointments with the reporter.
If you work with Jira Service Desk, you probably know the scenario: A ticket needs more clarification, a short call would do, but going back and forth in comments to try and agree on a time is frustrating.
Our new app lets you see whether the user is available for a call right now – and if not, when their next free time slots would be. All the information comes from you and your coworkers' Outlook calendars, based on Office 365.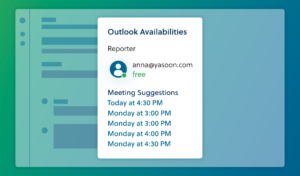 Using Microsoft Graph API, this app compares the calendars of the agent, users, and any other participants and shows the meeting times that work for all parties to the agent. Imagine a scenario with multiple stakeholders on one ticket across different time zones… the time savings here are enormous.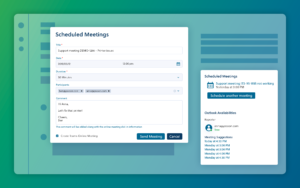 And it even works with stakeholders outside your organization: The app sends Outlook calendar invites with dial-in info for Microsoft Teams or Skype. It also adds the meeting information to the issue as comments for everyone to see.
Built at Atlassian App Week in Santa Cruz, Outlook Meetings for Jira has now made its way to the Marketplace. Try it for free!