With more than 2,200 customers, Outlook Email for Jira is the biggest and most popular app in our product range.We spent the last three years building it as a feature beast, deeply integrated in the Outlook world, to support your daily workflows as efficiently as possible.
It became heavy – too heavy for our agile product development methods. So we rebuilt it from scratch and while we were at it, we implemented some highly requested features, rethought workflows for a much better user experience, and made the version more stable than ever.
New features, easier UI
Of course, you can still create issues straight from an email. This dialog was already very powerful, but to make it even easier for you, we implemented a rich text editor and added a bunch of new features for Jira Service Management.
Our sidebar gives you contextual information from Jira on the email you're currently working on. It shows issues related to this conversation or status details. We also provide you with information on the sender of the mail, such as their involvement in previous tickets.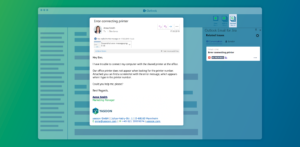 As another new feature, you can now send current issues as emails from the sidebar – either to the reporter, the assignee or to someone entirely new.
An admin-approved app
Outlook Email for Jira boosts the adoption rate of Jira, increasing the precision of data quality every day. So it's a good thing that our improved app is also very easy to roll-out.
To increase usage, we support all operating systems: Windows, Mac, Web iOS and Android.
And if you're looking for data center options: Our app is performant and reliable in a cluster. We already have a certified app for data center in the Atlassian app store.
Starting now the app is available for Office 365 users: Try out the all-new Outlook Email for Jira.