Under rapidly changing circumstances, many companies must find their way to embrace remote work. Right now, it is hard to maintain business as usual for employees and customers.

Amongst other things, this makes Microsoft Teams a global hot topic. Microsoft teams registers 115 million users up to October 2020 (Statista, 2021). This incredible high number speaks for itself: Microsoft Teams helps companies to create virtual offices and to run effective remote meetings all around the world. Moving forward, our approach is to enhance remote work a little more by introducing Microsoft Teams to our dearest friend Jira. Our aim is to make cross-collaboration and communication between tools convenient and simple to use.
Microsoft Teams for Jira – good to have you
Almost three months ago we introduced you to "Microsoft Teams for Jira – Smart Connect". Our business team at yasoon has been using the Microsoft Teams for Jira integration ever since. Of course, we have been Teams and Jira power users since day one, therefore the launch of the app came in handy. We started using it internally to structure our business tasks and to communicate harmoniously.
Microsoft Teams for Jira – yasoon internal use case
Time-consuming tool-switching, low productivity, tedious copy-pasting, the long search for the correct issue attachment … all these are a thing of the past. A neat use case from our staff: We use the integration to directly communicate via the mobile Teams app into Jira issues. Especially during home office times, device responsiveness is incredibly useful.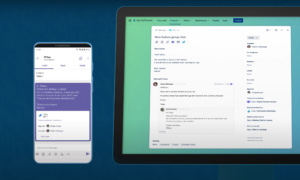 Working on your mobile device in your Teams app, you can use our integration to easily connect Jira issues to Teams conversations. Replies sent from your mobile device will instantly appear in the Jira issue. No matter where we work, nothing ever gets lost. Making quick decisions or coordinating teamwork via Microsoft Teams and Jira? It's no issue anymore. 😉
Microsoft Teams for Jira – more information
Microsoft Teams for Jira – Smart Connect makes cross-collaboration and communication smooth and simple:
Start Microsoft Teams conversations in Jira
Get your whole team involved
Share Jira issues in Microsoft Teams
You want to know what works best for you? Check out our feature overview and comparison: Comparison of popular Jira apps for Microsoft Teams
Microsoft Teams for Jira – Smart Connect for Server & Data Center is now available.
We are not done yet. Teams for Jira Service Management is on it's way: Sneak Peek Teams for Jira Service Management
Microsoft Teams for Jira – Still not enough?
Find Microsoft Teams for Jira – Smart Connect at the Atlassian Marketplace